Good Intentions Aren't Good Enough
According to the National Center on Charitable Statistics, 30% of 'For Good' or Non-Profit organizations close their doors within ten years. According to Forbes, over half of all nonprofits (1.9 million+) that are chartered are destined to fail or stall within a few years. Why is this? It's no secret that these organizations are built upon the backs of those who serve within them. Across the world, there exists a stigma and a fatal badge of honor that in order to honor their donors or steward their grants, For Good organizations must operate on a shoestring budget. While worn with good intentions, this "badge of honor" only acts as a disservice to the health of the organization, the individuals operating them, and the livelihood of making an impact beyond a decade. For Good organizations attract ambitious, others' focused team members, who deserve to be invested in personally and professionally.

Time and time again, we see research that shows organizations that invest in talent and professional development end up making greater gains. According to Gallup, businesses that scored the highest on employee engagement showed 21% higher levels of profitability.
Community Impact Starts Here
Over twenty years ago, Bob Chapman came to the realization that his global team members were not functions for his success, but they were all someone's precious child. He came to understand that the way he led them would have a profound impact on their health, marriage, and other relationships, both personally and professionally. It was a complete reversal of the way his business education and experience had taught him. Our people are our product. Through this revelation and others, Bob realized that each organization could be the most powerful force for good in the world — given that we have people in our care for 40 hours a week — if we simply have the courage and skills to care for those we have the privilege to lead. Bob began to develop his team members by giving them the skills to care for one another.
The Most Underrated Yet Fundamental Skill
When For Good organizations forget about one of the most underrated yet fundamental skills, listening, they lose touch with the people they exist to serve. At the core of each For Good organization should be the ability to listen empathetically without judgment. In 2010, the Chapmans offered the first communication skills training program to the community at large. Today, more than 13,000 people throughout the world have healed relationships and grown as leaders through this powerful three-day communication course called "Our Community Listens."
Personal and Professional Growth Opportunities
When team dynamics suffer, success depends on each member's commitment to careful consideration and growth. Leadership must exemplify listening, empathy, and self-awareness, as well as serving and truly human leadership, for a meaningful transformation that endures over time.

Today, thousands of participants and organizations benefit from partnering with the Chapman Foundation for Caring Communities and taking our three foundational development courses. Our programming is grounded in research and current best practices to address the current challenges people are facing at work, at home, and in their communities.
Our Community Listens
Because listening is the most underrated yet fundamental skill for community impact, our first foundational course is Our Community Listens. A three-day course designed to help participants learn how to listen effectively, express themselves clearly, and build better relationships. These skills are essential for success in both personal and professional contexts.

In addition, the communication skills training offered by the Chapman Foundation for Caring Communities can help participants to:

– Improve their ability to listen attentively and understand others to foster better relationships at home and work

– Come to understand their unique communication profile

– Learn about people's core behavioral tendencies

– Discover how to flex their communication for the comfort of others

– Appreciate the diverse contributions others bring to our lives and leadership

– Discover and experience how listening empowers people to help others, improve relationships, and increase the opportunity for personal and team achievement

– Learn the common misgivings about confrontation and power and will receive a practical method to positively and respectfully confront others to create change

– Express themselves more clearly and effectively

– Resolve conflicts peacefully and productively

– Lead more effectively and inspire others

– Improve Self Awareness

– Understand what motivates their team members

– Connect the principles and practices learned in this course to their life and leadership

– Reflect on how to reset their relational default modes, and learn how to leverage the most value out of the Continuous Learning process after the classroom experience ends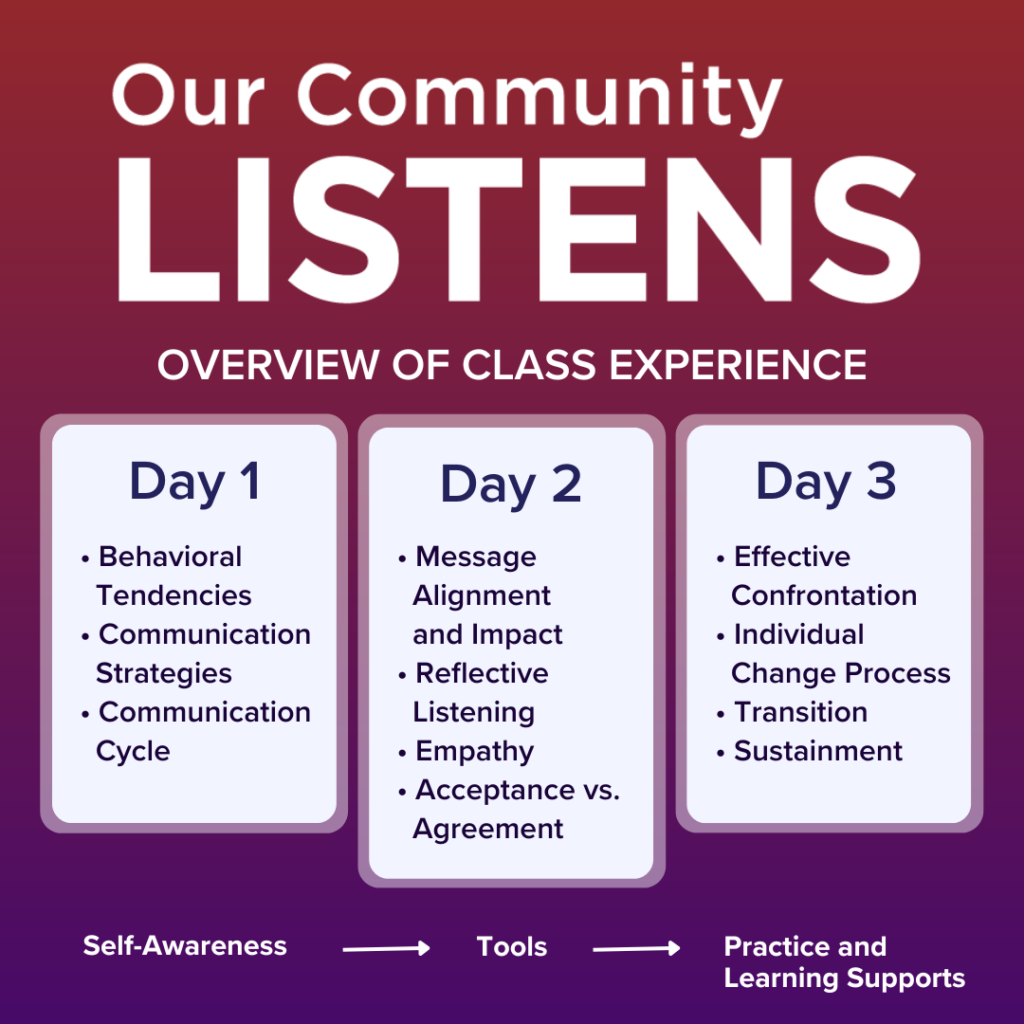 Who Can Take Our Community Listens?
The Chapman Foundation for Caring Communities offers courses to anyone who wishes to improve their personal and professional life. We are dedicated to developing a culture of listening, service, and leadership to create Caring Workplaces and Caring Communities. Our organization seeks opportunities for collective impact, allowing compassion to permeate every aspect of the culture to take root and enabling all to flourish. Additionally, becoming an alumnus of Our Community Listens gives you yearly access to over a dozen online growth opportunities at no additional cost.

Join many other organizations that have discovered that listening is the most underrated yet fundamental skill for community impact and have chosen the Chapman Foundation for Caring Communities as their skills training provider.

If you now agree that listening is the most underrated yet fundamental skill for community impact, click here to enroll in Our Community Listens. Need help convincing your leader? Click here to download our Letter to Your Leader document. To learn more, click here.