Spending Professional Development Funds
Maybe you're new to the job, or it's been a while since you've put your professional development budget to work. Have you ever been asked how you want to spend your PD dollars? Are you responsible for finding valuable ways to provide professional development experiences for your team? Either way, investing wisely in every team member's skillset and growth pays off in the long run for everyone. Thankfully, creating a plan for using your professional development budget is now easier than ever! Our team of workplace professionals has created a tangible approach you can use to make the most of this valuable resource. So get ready; we're diving into how to put those oh-so-crucial PD funds to work.
Workplace Data
Before we can appreciate the benefits of professional development, we need to understand the effects of organizational dysfunction and poor communication. When organizations fail to meet their cultural standards, team members experience disenchantment, followed closely by disengagement. According to Gallup, the percentage of actively disengaged workers in the U.S. is at 70% (2023). Most would attribute that to a lack of feeling seen, valued, or heard. On the other hand, the elements of engagement include clarity of expectations (clear communication), opportunities for professional development, and honoring opinions at work. In addition, multiple studies have found that career well-being is foundational for improving other elements of well-being, including social, financial, physical, and community. Click here to learn more about workplace data.
Personal and Professional Growth Opportunities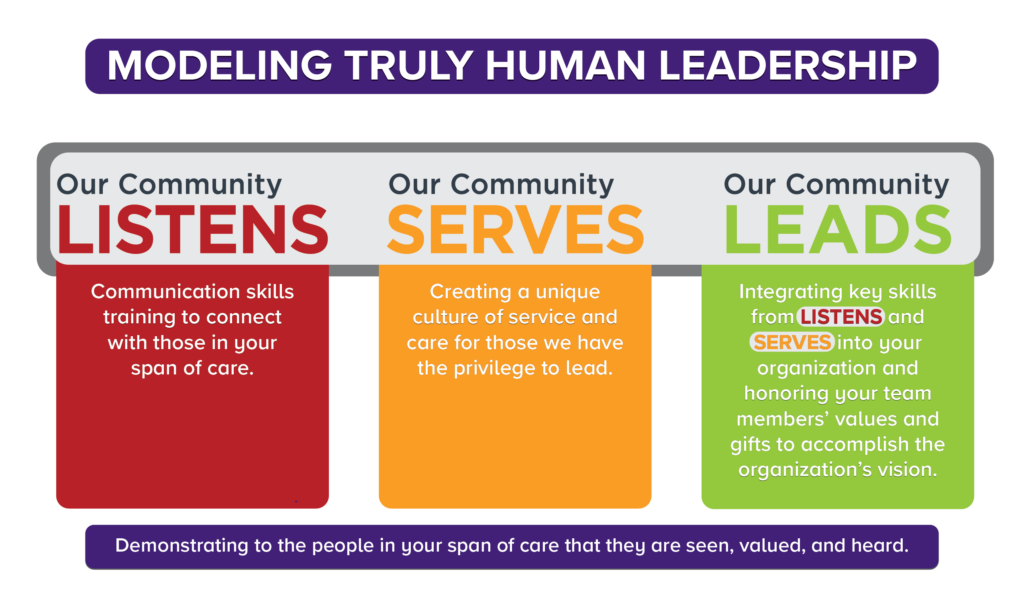 When team dynamics suffer, success depends on each member's commitment to careful consideration and growth. Leadership must exemplify listening, empathy, and self-awareness, as well as serving and truly human leadership, for a meaningful transformation that endures over time.

Today, thousands of participants and organizations benefit from partnering with the Chapman Foundation for Caring Communities and taking our three foundational development courses. Our programming is grounded in research and current best practices to address the current challenges people are facing at work, at home, and in their communities.
Our Community Listens
The first of our foundational courses is, Our Community Listens. The three-day course is designed to help participants learn how to listen effectively, express themselves clearly, and build better relationships. These skills are essential for success in both personal and professional contexts.

In addition, the communication skills training offered by the Chapman Foundation for Caring Communities can help participants to:

– Improve their ability to listen attentively and understand others to foster better relationships at home and work

– Participants will come to understand their unique communication profile

– Learn about people's core behavioral tendencies

– Discover how to flex their communication for the comfort of others

– Appreciate the diverse contributions others bring to our lives and leadership

– Discover and experience how listening empowers people to help others, improve relationships, and increase the opportunity for personal and team achievement

– Learn the common misgivings about confrontation and power and will receive a practical method to positively and respectfully confront others to create change

– Express themselves more clearly and effectively

– Resolve conflicts peacefully and productively

– Lead more effectively and inspire others

– Improve Self Awareness

– Understand what motivates their team members

– Connect the principles and practices learned in this course to their life and leadership

– Reflect on how to reset their relational default modes, and learn how to leverage the most value out of the Continuous Learning process after the classroom experience ends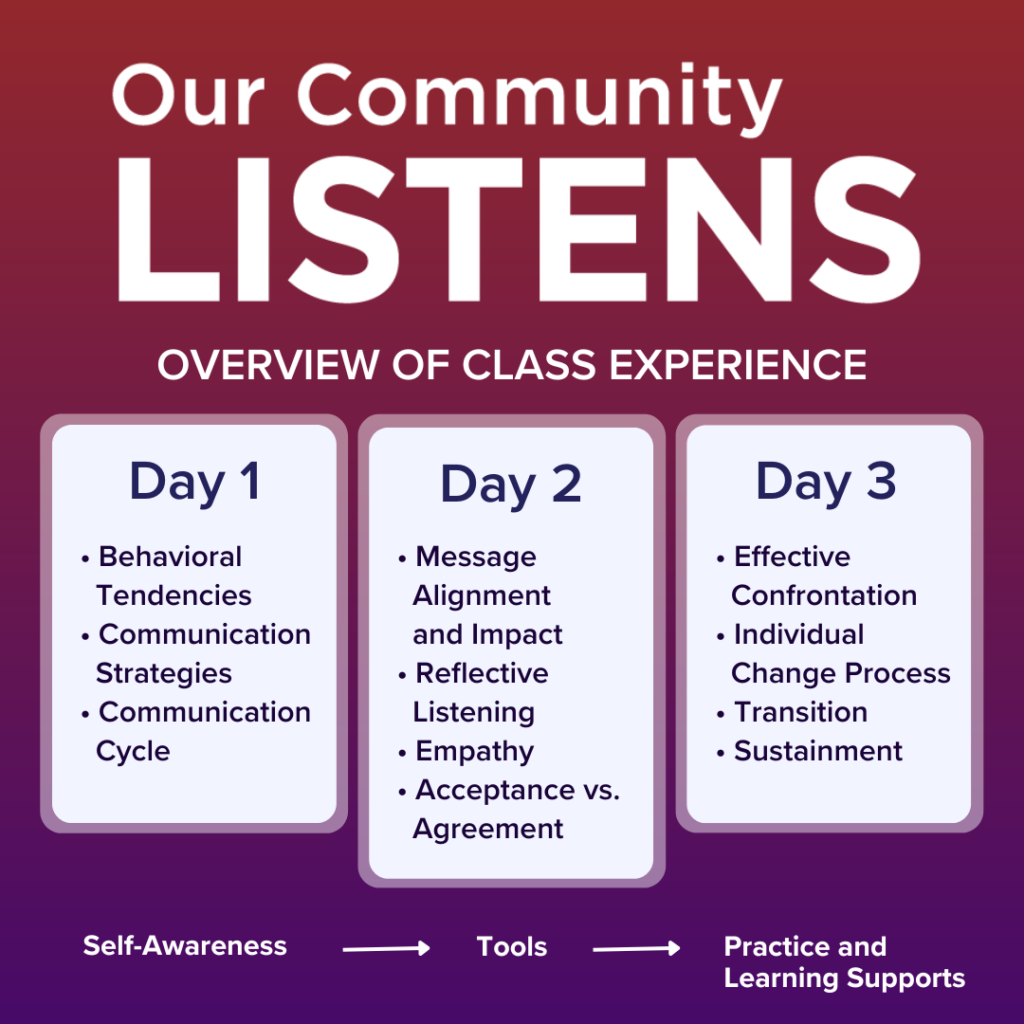 Who Can Take Our Community Listens?
The Chapman Foundation for Caring Communities offers courses to anyone who wishes to improve their personal and professional life. We are dedicated to developing a culture of listening, service, and leadership to create Caring Workplaces and Caring Communities. Our organization seeks opportunities for collective impact, allowing compassion to permeate every aspect of the culture to take root and enabling all to flourish. Additionally, becoming an alumnus of Our Community Listens gives you yearly access to over a dozen online growth opportunities at no additional cost.

Join many other organizations that have already chosen the Chapman Foundation for Caring Communities as their professional development provider.

If this sounds like a great way to use your professional development funds, click here to enroll. Need help convincing your leader? Click here to download our Letter to Your Leader document. To learn more, click here.